Scott Schultz of Jolie-Laide likes what he is seeing with Nomacorc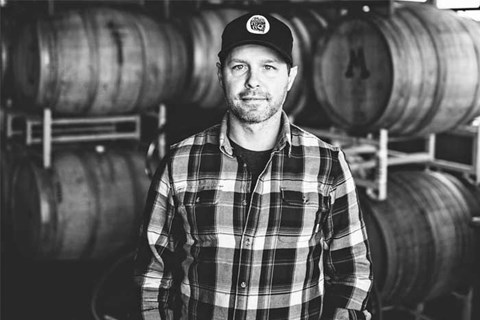 Scott Schultz hails from Chicago where he worked both the front and back of the house at several top restaurants. A job at the Las Vegas outpost of Thomas Keller's Bouchon lead to a wine director post back in Yountville. Once in Napa he apprenticed in several cellars and in 2010 wound up working for Pax Mahle. It was there he started experimenting with the then-obscure Trousseau Gris grape.
Jolie-Laide's wines have since become runaway hits for their range (from Gamay to Pinot Gris to Valgiguié), their style (whole-cluster, skin-fermented, foot tread), to their ever-changing labels (charcoal sketches of nudes, 18th century field drawings of butterflies, distressed photos of skateboarders).
"Jolie-Laide" translates as "pretty-ugly" but it's actually a euphemism to describe things of unconventional beauty. For Scott, oddball grapes, unexpected sites and surprising wines are where it's at.
Q&A WITH SCOTT SCHULTZ
Q: Describe the "aha" moment when you first fell in love with wine.
Jeez I still have those all the time!
A long time ago I was a busboy at a restaurant and some guests left a half bottle of wine. Typical busboy behavior, we start to shark the table before the server noticed. He caught us, then gave us the spiel about the bottle, what it cost, how rare it was, etcetera. We had no idea what it was but it was supposed to be very special. Turns out it was a bottle of Opus One. Funny to think about now . . .
The next job I was a busboy at Spago where Ken Fredrickson was the head sommelier and he let me sit in on a Riesling wine class. Here I was, 17 or so, and listening to him speak of river rocks and wet stones. I thought it was so cool. I've been fortunate to work in many really nice restaurants over the years and have been exposed to lots of amazing wines. But just like Pax, Northern Rhone Syrah was the first thing to click, like whoa.
Q: Do you have a philosophy of winemaking / about wine you strive to share with others?
Just simplicity and honesty. We are super lo-fi. It almost doesn't seem true to call us wine makers because we really don't do much. You have to pay attention and be aware. As they say, "Start with some great fruit don't f**k it up." The do-nothing approach isn't new by any means; it's just funny how far many have gotten away from it.
Q: What led you to select/favor Nomacorc PlantCorcs?
The sustainability factor was a big plus for us. We are always interested in testing new technologies that could better our 'footprint'. I really like the oxygen ingress control and recyclability as well. We still use a mix of natural cork and Nomacorc but I like what we are seeing so far with Nomacorc.
Q: What is the most overrated trend in wine today?
I don't worry about fads or trends. I focus on what I can bring to the table to better my wine community. That said, I'm fully aware that my winemaking style or my crazy labels might be considered trendy by some. Really, you should just do what you do really well. Be passionate and original and you'll be fine.
Q: What new winemakers/industry leaders are you most excited about, and why?
The wine world is big; there's a lot to keep up with. It's like learning about chefs – new ones pop up all the time and so many them are doing great things. I have friends who are killing it in South Africa like Craven and Blacksmith. And there's so much cool stuff coming out of Australia these days. I think we're seeing a shift in culture in both the New World and Old.
I like going into amazing shops like Ordinaire and Bay Grape and just letting them turn me onto all their favorite new wines.
Q: If you weren't a winemaker/wine business leader what would you be doing?
I am sure I would still be in restaurants. Probably own a wine bar, which is all too predictable. I love art and music so always need to incorporate those into my life.
Q: How has the perspective of time changed your approach to wine?
I like to think we are all constantly evolving. With my label, we're always experimenting with new (that is,
old
) techniques to see what could be better. Mostly it's just us learning a little more every year.
Q: What is your idea to perfect happiness?
The chance to get to do what you want and love in life – whatever it is you are passionate about.

Q: Who inspires you personally - in wine or any endeavor?
People who work hard and love what they do. Also, anyone who overcomes tragedy. Like a person who loses their legs in an accident and next thing you know they're breaking records for downhill ski racing or mountain climbing. That is inspiring to me.
Q: What, if anything, do you leave to chance in the cellar or in life?
Everything and nothing, or so I would like to think. I don't leave it up to chance per se but anything good is worth taking chances for. Insert Motorhead quote here . .