Pam Starr looked into Nomacorc in 2001 and "we never looked back, never had an issue"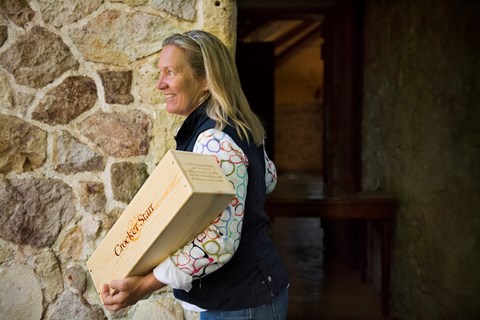 Pam's career in winemaking began as a harvest intern for Sonoma Cutrer after graduating from the University of California at Davis with a degree in fermentation science. She spent her early years in the business as an enologist and assistant winemaker for Carmenet in Sonoma, a job that taught her how to run a winery from cellar to bottle. In 1991, she became the winemaker for Spottswoode in Napa Valley, where she worked until she met Charlie Crocker in 1997. She has been the co-owner, manager and winemaker of Crocker & Starr ever since.
Crocker & Starr grows Bordeaux's five noble varietals as well as Sauvignon Blanc on an 85-acre estate that has been continuously farmed since the 1870's. The vineyard lies in the St. Helena AVA, just south of town and is comprised of alluvial soils that gradually change as the terrain gently slopes down toward the Napa River. The variety is a constant source if intrigue and pleasure for Pam, who defines her job as translating soil into wine.
Q: Describe the "aha" moment when you first fell in love with wine.
It was a '66 Lafite Rothschild. It was given to me by a customer of the wine shop I worked at while in college, in exchange for helping him catalog all his wines. He would regale me with all the amazing bottles he had in his cellar and I had no clue what he was talking about. I sat on the Lafite for many years and finally brought it to a family retreat. When I opened the bottle it was beautiful. I had never tasted a wine that had so many earth qualities to it that were so savory and juicy. There was cedar, cigar-box, tobacco, cassis . . . it was so full of spices.
I worked as a spice technician for a year – this is where I got my wine vocabulary – I learned to recognize powdered garlic from fresh, every form of capsicum, every kind of pepper. We made seasonings for all kinds of products. The sensory training is something you never forget.
The oldest wines tell the best stories. For my 50th birthday we had an amazing party where everyone brought magnums. We kicked it off with a 1918 Gruard Larose. You can't open a bottle like that and not ask yourself, What was happening in the world in 1918? How did they manage to get the wine in bottle during war-time? What happened to the people who made it? How did it survive over time?
Q: Do you have a philosophy of winemaking / about wine you strive to share with others?
I wouldn't call it a philosophy, exactly, or even a style. If anything, my style is technique – it's what I do in the vineyard, the focus I bring, the inputs we make, our intent at harvest to capture both the tannin structure and the juiciness of the fruit and to elongate these flavors and textures the best way possible.
Hedonically, wine has to be delicious, of course. But it has to also be distinctive, to taste of a place and present itself well over time. That's what it means to bring the message of the vineyard through the wine and into the bottle.
Q: What led you to select/favor Nomacorc PlantCorcs?
When I was working at Spottswoode in the early '90s we had gone on a deep-dive to source non-estate Sauvignon Blanc. One of the issues we encountered were woody flavors in wines that had been fermented in stainless steel. We attributed this to the corks.
There were several alternative closures at the time, most of them plastic and not very good, not able to withstand even slight temperature change. But the notion intrigued me.
Fast forward to 2001, when we were about to bottle our first Crocker & Starr SB. I came across Nomacorc and saw they had something different – the skin was a better polymer that had lenticels that actually mimicked natural cork. So I gave it a shot. After that, we never looked back, never had an issue. Nobody has ever called me up and said I had a corked bottle or complained about off aromas.
Q: What is the most overrated trend in wine today?
They pretty much all have to do with marketing, low-alcohol wines being the most obvious culprit. I would love to be able to produce a wine where you didn't get drunk and you didn't get fat but where does that leave you? Under-ripe and unfinished. That's no better than wines that are syrupy, alcoholic and over-the-top.
Q: What new winemakers/industry leaders are you most excited about, and why?
Argentina has a lot of promising young winemakers; all of them have a lot of talent and passion for wine. Sergio Pomar is a young talent who worked for us for several years and has great potential.
Q: If you weren't a winemaker/wine business leader what would you be doing?
I would probably like to go back and study architecture. And to build what I design. There's a huge parallel to making wine. Contracting and winegrowing share a lot of attributes — light, air, longevity, balance. Balance is everything.
Q: How has the perspective of time changed your approach to wine?
I've found that the less I do, the more successful I am. When I look back on the wines I've made, I would hope my legacy is that I've exhibited a very gentle hand in translating and preserving the vineyards I work with. That there is continuity in the wines over time.
That isn't to say things haven't changed. When I started here in 1997, the first six years of this journey was all about getting the vines back into balance. And you can see how the wines have come along as the organic farming took hold. What you taste in the wine over time is the vineyard's ability to absorb the viticultural inputs.
But now we're where we want to be as far as farming and I can spend more time fine-tuning in the cellar. New fermentation vessels, temperature de-stratification, automatic pump-overs, some oak experimentation. I think there are truly great wines ahead of us.
Q: What is your idea to perfect happiness?
Perfect happiness is waking up each day with a sense of joy.


Q: What, if anything, do you leave to chance in the cellar or in life?
You can't control anything in winemaking.
<laughs>
The microorganisms are in control. They're the ones eating the sugars and making all the good metabolics. Fermentations don't always go the way you'd like them to. You can watch and course-correct some – stir it, take it off its lees, whatever – but you're mostly just waiting for it to finish. That's not leaving it to chance. That's just letting things run their course.
Photos:@emmakmorris