Igino Dal Cero finds success with Nomacorc at Cà dei Frati Winery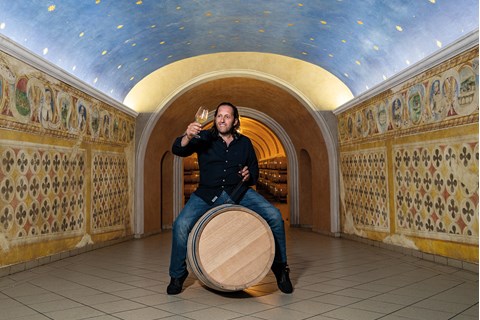 The history of Cà dei Frati dates to early last century when in 1939, Felice Dal Cero moved to a little house in Lugana di Sirmione on the southern shore of Lake Garda. The grandfather of Igino Dal Cero immediately realized the area's potential for vine cultivation. After thirty years working in the vineyard and the cellar, his son Pietro took part in the creation of the DOC (denomination of controlled origin) in 1969, bottling his first wine with the label Lugana Casa dei Frati, later named Ca' dei Frati. In 2012, Pietro Dal Cero passed away, leaving the cultural legacy to his wife Santa Rosa and children Igino, Gian Franco and Anna Maria, who run the company with the same passion and determination.
Cà dei Frati winery produces powerful and impressive red wines but also high-quality white wines. Their wines are produced through the painstaking observation of the land and the behavior of the vines, conducted by four generations of winemakers. The processes take place with the utmost respect for the grapes through an innovative technique refined over the years that enables Cà dei Frati to obtain full-bodied wines with great longevity.
Q: Describe the "aha" moment when you first fell in love with wine.
My parents were winemakers and while, when I was younger, I was more passionate about engines and races, my love of wine gradually took over, thanks largely to my father's intelligence in always giving us children responsibilities. It made us grow up, even by making mistakes.
Q: Do you have a philosophy of winemaking you strive to share with others?
My passion for mechanics and technology has helped me a great deal in winemaking to achieve major goals and I am now sharing this philosophy with my whole team.
Q: What led you to select Nomacorc PlantCorcs?
I needed to resolve the problems generated by natural cork. The more the years passed by, the more the problems increased. I began to experiment with some alternative caps as early as 20 years ago, but with poor results. Nowadays, technology gives you a closure that guarantees consistency and neutrality.
In addition to the technical aspect that led me to choose these closures for 100% of our production, I must say that the ecological aspect is also very rewarding to me. I am also happy with the relationship with the Vinventions team, as it has always put itself forward as a partner ready to collaborate to achieve the best solution and not as a simple supplier.
Q: In what way has the perspective of time changed your approach to wine?
Time is everything. Our wines respect the cycle of life dictated by time and by nature and we do not succumb to stresses and market demands.
Q: Who inspires you personally — in wine or any endeavor?
My inspiration comes from the territory, which, in my opinion, should be conveyed within the bottle. However, in addition to this, there should also be the producer's interpretation, which, for wine, means recognizability.
Q: What is the most overrated trend in wine today?
I think today the market perhaps pays more attention to the name than the quality of the wine.
Q: What new winemakers are you most excited about and why?
I like winemakers who make their own mark that can identify them, as occurs with great artists who don't use their talent to satisfy the market, but to satisfy their soul.
Q: If you weren't a winemaker what would you be doing?
I don't know, but I would probably be working with technology in any case.
Q: What is your idea of perfect happiness?
This last year's wines as, with perfect capping and a low – but correct – quantity of sulphites, we achieved an incredible result. I have to say that I recognize my wine from when I start to bottle it until it reaches the glass.
Q: What, if anything, do you leave to chance in the cellar or in life?
Nothing! Knowing how the Nomacorc closure works in the oxygenation of the wine, it is easier to plan scrupulously the whole winemaking process, and the certainty of the result is guaranteed.