Nomacorc reigned supreme in all tastings for Jeff Meier of J. Lohr Vineyards & Wines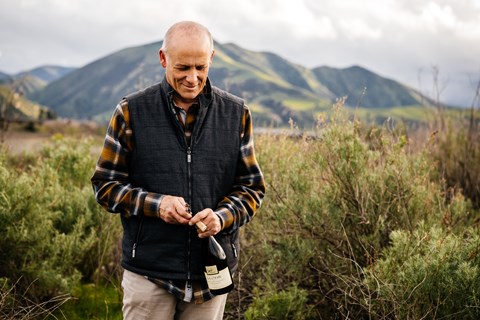 For more than three decades, Jeff Meier has been an integral part of J. Lohr Vineyards & Wines, working closely alongside Jerry Lohr, and the Lohr family, to build one of California's most respected estate programs, and a world-renowned portfolio of wines. Today, as the president and COO for J. Lohr Winery, Jeff oversees marketing, operations and production, while also working with Director of Winemaking Steve Peck to ensure the stylistic direction of all J. Lohr wines.
Viticulture has been a part of Jeff's life since his childhood. Raised in the Bay Area, Jeff would often accompany his parents on wine tasting trips to Napa and Sonoma counties. Jeff fell in love with the beauty and tranquility of the vineyards, which led to a lifelong passion for wine. This passion eventually steered Jeff to UC Davis, where he was inspired to become a winemaker and earn a degree in viticulture and enology.
Q: Describe the "aha" moment when you first fell in love with wine.
There are two very special wine moments I remember to this day… and still inspire me to deliver my very best each vintage:
The first was a bottle of Joseph Phelps chardonnay shared with my good friend Mark Heinemann in the dorms at Davis. As students we rarely had access to fine wine and this cool crisp chardonnay was very memorable.
The second stand out wine was a premier grand cru 1985 Chateau Canon from Saint-Emilion. We were on a water-skiing vacation with friends at a not so memorable restaurant. When we tasted this wine, we all looked at each other and said "wow". A complex red wine so rich and soft — with great aromatics. Truly jaw-dropping.
Q: Do you have a philosophy of winemaking / about wine you strive to share with others?
First and foremost, get things right in the vineyard. Then thoughtfully balance art with science sensory winemaking married with the science of winemaking. Honoring the fruit mother nature delivers each vintage with careful extraction, a delicate balance between color and tannin… pump over and punch down… rack and return. Finally asking what does the wine taste like, what does it look like phenolically? All of this done well together ensures a harmonious wine.
Q: What led you to select/favor Nomacorc PlantCorcs?
I was becoming increasingly disappointed with the presentation of our white wines that we had spent so much time creating. Too many would be scalped or tainted or present with differing oxidative states. In search of a better solution, we visited natural cork producers throughout Portugal. Eventually we chose an alternative option and while our white wines improved — many issues remained.
Then I spoke with Nomacorc about their new sugarcane closure promising no taint, no scalping, a guaranteed oxygen transfer rate — complete with an upscale design like traditional cork. We decided to trial Nomacorc along with other closures (Diam and NDTech TCA free) over 18 months. In all our tastings, Nomacorc reigned supreme.
Serendipitously, at the same time I found a thick file that was kept by our retired tasting room director logging each and every customer complaint over the years about our wines. There in black and white were listed so many past issues related to closures we didn't know about.
We made the switch to Nomacorc on our flagship chardonnay and ordered our first 6 million corks. We haven't had a single complaint about oxidative or closure-affected wine since we made that change. That complaint file? It hasn't grown at all.
Looking back at those original Nomacorc closures from years ago, the wines are still holding up beautifully. Wines with Nomacorc have more staying power. Today when I open one of these wines I don't even hesitate. No more sniffing for cork taint. I know it will show well every time.
Q: Who inspires you personally — in wine or any endeavor?
On a recent trip to Barcelona, I was completely inspired by Antoni Gaudi's architecture. From La Sagrada Familia to Park Güell so much of his architectural inspiration comes from the intersection of man and nature. Beautiful and unique. Vivid color and curvy lines combining both Gothic and curvilinear Art Nouveau forms. Today all construction on the La Sagrada Familia church is self-funded by visitors — and when finished — construction will have continued more than 100 years after his death!
Wine is not as permanent as a building but it is a timeless snapshot of a particular season. You can drink the wine many years later — and in just one taste relive the vintage all over again. While the grapes themselves are fleeting, man and nature work together to create this lasting wine for people to enjoy well into the future.
Q: What is the most overrated trend in wine today?
Believing you must chase after the latest wine fad and consequently taking your eye off what is important to your brand's identity. Wine in cans. The latest hot varietal…even if the varietal doesn't work well with your terroir, vineyards or winemaking style. At J Lohr, we focus first on understanding our appellations and their varietals. What really speaks from a given area and then work to refine that. Chasing marketplace trends almost never results in truly great wine.

Learning how to make fine wine takes time, decades even — because there is only one vintage each year to practice our craft. (A chef can learn and improve meal by meal three meals a day, 365 days a year). Winemakers evolve more slowly — chasing new fads distracts us from discovering our true identity and the essence of our wines.
Q: What new winemakers/industry leaders are you most excited about, and why?
Great question:
Russell P. From at Herman Story he's making neat wines.
Ted Lemon from Littorai Wines — very terroir driven, letting site express itself without chasing an inky pinot just because it is trending.
Justin Smith of Saxum (I can't afford his wines, but I love them).
My mentor Barry Gnekow – I learned so much from him. He is creative and always exploring, I have great respect for adventurous leaders like Barry that have withstood the test of time.
Q: If you weren't a winemaker/wine business leader what would you be doing?
Growing up I watched my dad as an accountant spending all his time in the office or commuting to and from San Francisco each day. From an early age, I knew I didn't want that. I wanted to work OUTSIDE.
So, if I wasn't so privileged as to be making great wine… landscape architecture would be my dream. Following someone like the famous English landscape architect Capability Brown. He was known for designing gardens of great natural beauty.
Q: What is your idea of perfect happiness?
Enjoy the moment whatever situation is before you. Find the joy.
Q: What, if anything, do you leave to chance in the cellar or in life?
The only thing we leave to chance in the cellar is native yeast. Beyond that the best offense is a good defense. We do a lot of analysis to stay ahead of problems this ensures we only have to intervene if absolutely necessary.
Photo:@emmakmorris