Marty Clubb, Managing Winemaker and Co-Owner of L'Ecole No 41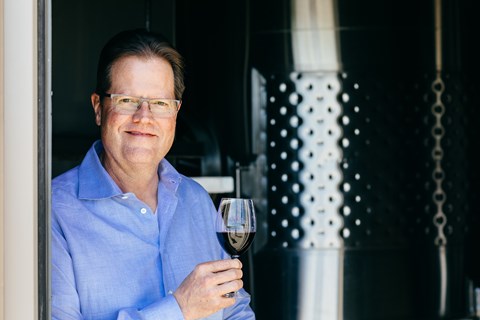 Marty Clubb is Managing Winemaker and Co-Owner of L'Ecole No 41 with his wife, Megan, and children, Riley and Rebecca. Founded by Megan's parents, Jean and Baker Ferguson, in 1983 L'Ecole was the third winery in Walla Walla Valley.
Marty assumed responsibilities as manager and winemaker in 1989 and since that time, he has led L'Ecole to become one of the most respected wineries in Washington State.
Today L'Ecole is at the forefront of sustainable farming in the Walla Walla Valley, notably with their Estate Ferguson and Estate Seven Hills Vineyards, both of which are certified sustainable and certified Salmon Safe.
Q: Describe the "aha" moment when you first fell in love with wine.
I remember the weekend well. It was 1980 and my future father-in-law, Baker Ferguson was visiting Megan in Boston. He bought an assortment of wonderful wines from the Somerville Wine and Cheese Cask including Ridge, Grgich, Mayacamus, and a delightful Puligny-Montrachet. It was breathtaking how delicious and complex these wines were. Baker also entertained us with the story behind the wines. The following night he took us to dinner at the Left Bank restaurant in the Back Bay. He ordered a bottle of La Tache. I was hooked.

Q: Do you have a philosophy of winemaking / about wine you strive to share with others?
Mostly keep it simple and well made. I am a minimalist but believe in science to help steer the wines to the finish line. I am a convert to the philosophy that wine is made in the vineyard, and have enjoyed many friendships with insightful viticulturists whose nuanced adjustments in the field do more to elevate wine quality than do tricks back at the winery. I support and endorse sustainable farming practices and our estate vineyards in Walla Walla are all certified.

Q: What led you to select/favor Nomacorc PlantCorcs?
We certainly had our fair share of cork taint. Initially, I began to explore options for our white wines, and the Nomacorc Green line stood out. Made from sugar cane, the idea of a plant-based product appealed to our sustainability direction, and the controlled oxygen permeability was an added benefit. I learned that Ken Wright had been using Nomacorc for over 15 years and I was sold. Nomacorc designed a new closure skin that made it feel like real cork, and quite frankly very few people even realize there is a difference. We are now phasing into these corks on all our Heritage Columbia Valley wines.
Q: Who inspires you personally — in wine or any endeavor?
In the wine world I have always admired Paul Draper and the early wines from Ridge Vineyards. He was a minimalist and really focused on showcasing single vineyard wines. All of the Ridge wines were excellent, a model we strive for at L'Ecole. In my personal life, my wife Megan has always supported my wine endeavors, been my cheerleader, yet guided me with her strong instincts and intuition.


Q: What is the most overrated trend in wine today?
Limited or no use of SO2. This generally leads to flawed wines with bacteriological spoilage factors (VA or brett). Poorly made wines are not "natural". I am also not a fan of excessive ripeness, overt alcohol, or sugar in red wines.


Q: What new winemakers/industry leaders are you most excited about, and why?
The Walla Walla Community College School of Enology and Viticulture is doing amazing work churning out 30+ new winemakers every year and having a significant influence on the quality growth curve in Washington State. Tim Donahue, Director of Winemaking, is the smartest winemaker (and chemist) I know. I could easily go back to this school.


Q: If you weren't a winemaker/wine business leader what would you be doing?
Prior to L'Ecole, I worked on project finance and development for Bechtel. I worked with the CFO and General Counsel to negotiate creative solutions to high-risk financial problems (i.e. the Chunnel project from England to France; later I delighted in taking my first ride). The wine business was at first a left turn, but that early experience helped me to learn to wear different hats: farmer, winemaker, brand builder, building partnerships with distributors, and building broad customer relations, all key to a successful winery brand. The bonus has been to lead a family business and to avoid corporate politics.
Q: What is your idea of perfect happiness?
Living the dream as they say. I love my job, and family, and we are enjoying traveling the world and seeing new wine regions along the way.

Q: What, if anything, do you leave to chance in the cellar or in life?
My family would laugh at this question. I'm an engineer and they could share countless examples of ways I leave very little to chance. So, I think the key words are "if anything" and the answer is "nope, I do not leave things to chance".


Photo:@emmakmorris