Pax Mahle liked the look, feel, and performance of Nomacorc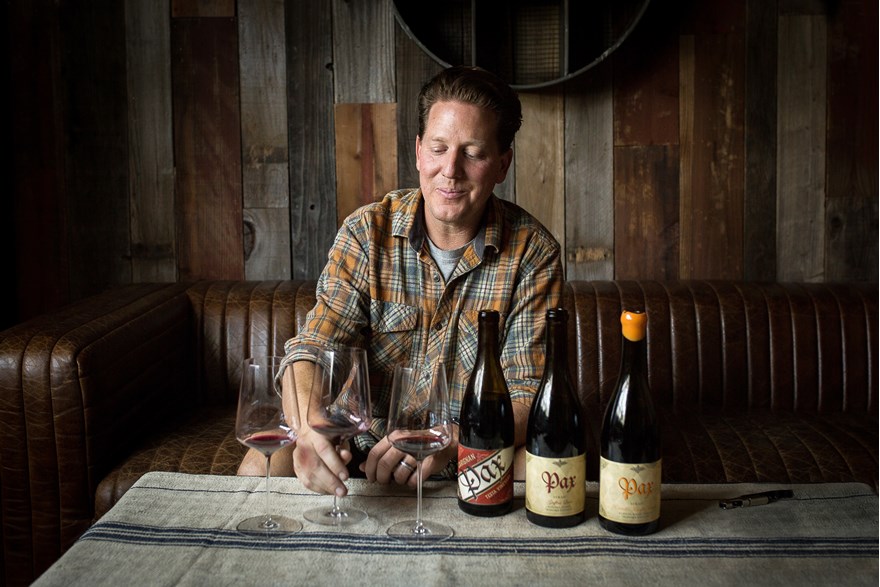 In 2000, Pax Mahle and his wife Pam, who had both worked in the food and beverage industry, began Pax Wine Cellars with the idea of focusing on site-specific Syrah from Sonoma and Mendocino Counties. The first wines were powerful, muscular reds that quickly established Pax as one of California's premier producers of Syrah. The brand has since evolved to include varietals like Chenin Blanc, Gamay, and Carignan. They maintain a holistic approach to winemaking and use grapes grown without pesticides.

The duo believe great wines come from great vineyards that must be maintained in a balanced and sustainable fashion. This is a consistent theme from grape to bottle. They continue their belief in sustainability by using Nomacorc PlantCorc closures to seal and maintain the award winning integrity of Pax Mahle Wines.
Q: Describe the "aha" moment when you first fell in love with wine.
Years ago, at this restaurant I worked at on Nantucket, we would have these amazing old bottles of Bordeaux and Burgundy – all the great wines of the world. But there was just something about my first northern Rhone Syrah that really flipped everything on its head. It was wild and exotic and funky and satisfying in ways I had never experienced. The wildness of it all.
I also remember being really impressed with the Turley Zinfandels when they first came out – the '94 and '95 vintages. They were ripe and they were lush and they were spicy and they were rustic and they tasted alive. I guess that's what it was about Syrah, it tasted alive.
Q: Do you have a philosophy of winemaking / about wine you strive to share with others?
Authenticity. The intent is not to have too much of ourselves in the wine. More to direct it, to raise it . . . élevage, as the French say. I think: How did a guy in northern Rhone make Syrah 60 years ago? What did he do? Because that guy knows what it takes to make great wine and it has nothing to do with some magical chemical or some trick piece of equipment or some funky-shaped tank or anything like that. It all comes down to simplicity. The idea is not to use technology at all.
Q: What led you to select/favor Nomacorc PlantCorcs?
To be honest, I just liked the way PlantCorcs felt, I liked the way they looked. I liked the way the wines tasted when they came out of the bottle, and it seemed like a natural fit.
Q: What is the most overrated trend in wine today?
Big flavor. The tendency for producers to make these monstrosities that are so contrived and so manipulated and taste like nothing more than extract and oak and alcohol. But they're from a vineyard that
apparently
grows great fruit and the wine sells for $350 and gets 100 points and sells out in an hour. That to me is appealing to the lowest, albeit wealthiest, common denominator. Soulless.
Q: What new winemakers/industry leaders are you most excited about, and why?
The new crop of winemakers who aren't going for the big flavor thing. They're making exciting, fresh, delicious, easy, authentic wines that aren't manipulated. Scott and Jamie, my current assistants, are doing great things. Scott has his own label [
Jolie-Laide
] and soon Jamie will too. My first assistant, Duncan Meyers, who's had great success with
Arnot-Roberts
for many years now. Also Ryan & Megan Glaab at
Rhyme Cellars
. The most rewarding thing I've been able to do in this business is to help people like them. Oh, and
Martha Stoumen
is making super cool wines, too. Check her out.
Q: If you weren't a winemaker/wine business leader what would you be doing?
I want to retire and open a taco stand. Honestly, I have no idea. I'd be lost without wine in my life.
Q: How has the perspective of time changed your approach to wine?
I don't think time has changed my approach but one vintage definitely confirmed it. In 2004 we had a heat spike that lasted two weeks or so and we ended up with several vineyards coming in riper than we wanted, so we had to make adjustments. Parker loved them but time was not kind to those wines. And what we had to do in the cellar was not really us. That was the real line in the sand for me. Living with those wines and understanding the importance of freshness in wine was driven home by that vintage. So when 2007 came along – another warm vintage – we knew to err on the side of freshness and pick before the heat. We haven't looked back since.

Q: What is your idea to perfect happiness?
Not having to answer this question.
Photo:@emmakmorris