JUSTIN STERNBERG NAMED PRESIDENT OF VINVENTIONS USA
–

By Donna Mercer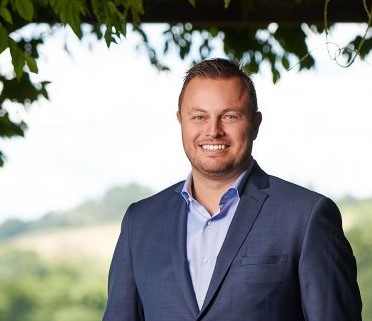 Zebulon, NC (November 10, 2021)- Vinventions announces that Justin Sternberg has become the President of Vinventions USA. For the past 9 years, Justin served Foley Family Wines in multiple capacities developing business assets and global brands that enhanced the company's market share. His new appointment with Vinventions USA began November 8, 2021.
" Justin is an experienced business leader with an emphasis on transformational growth. He brings an impressive track record in setting strategic vision, executing business growth, and driving expansion. We are excited to have Justin take the leadership role in North America and apply his dynamic experience in the wine industry ranging from commercial/sales strategy, operations optimization, as well as mergers and acquisitions. Also important is Justin's alignment with our company values of trust, respect, integrity, and teamwork," said Denis Van Roey, CEO of Vinventions.
As President of Vinventions USA, Justin will also join the global Group Leadership Team where his entrepreneurship and leadership will be a key asset to rapidly expand the portfolio of products and services.
"Vinventions is a dynamic global organization with an exceptional closure and quality solutions portfolio. I am thrilled to support the team's advancement and commitment to excellence in North America," said Sternberg.